Solutions
Prison & Corrections
Eliminate contraband cell phones in prisons and other correctional facilities.
Deploy the Zone Protector™ to continuously monitor for cellular activity. Leverage Zone Manager™ to efficiently locate contraband cell phones throughout your facility.
Quickly locate and confiscate contraband cell phones inside your correctional facility
Zone Protector™ and Zone Manager™ combine to help you eliminate security threats arising from illicit cell phone use. Easy to deploy, easy to use, and cost effective: Zone Protector™ and Zone Manager™ help security personnel execute efficient, well-targeted, productive searches and seizures of contraband.
Cellbusters' Zone Protector is an easy to deploy device that continuously monitors for cell phone activity in correctional facilities.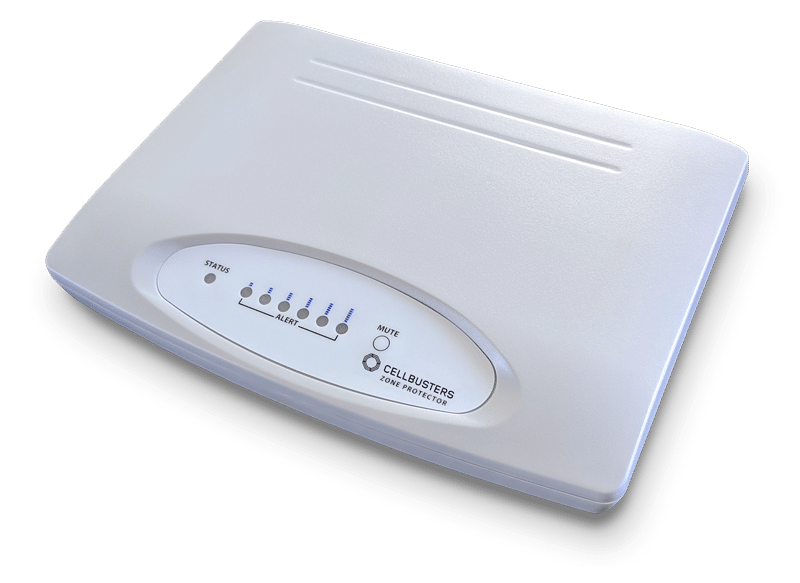 Cellbusters Zone Protector™
Cell Phone Detector
Capable of detecting all cellular activity including short text messages and cell phone registration pulses which are typical in a correctional environment.
Zone Manager™ logs and displays alert activity on a map of the facility making contraband phones easier to find.
Detects all cell phones and all carriers (2G, 3G, 4G, LTE etc)
Covert detection mode (silent logging)
Continuous monitoring eliminates wasteful patrols
Easy to deploy with Power over Ethernet (PoE) as standard
Futureproof – Protecting your investment
Fully supported – US Technology – CE and FCC Certification
Zone Manager™ delivers real time actionable intelligence. Zone Manager is a centralized software tool that collects alert information in real time from distributed Zone Protectors located around the correctional facility. Once cell phone activity is detected it is logged by Zone Manager and immediately displays the location of the contraband cell phone on a map of your facility.
Zone Manager™ is a powerful yet easy to use tool that delivers real time information with "ACTIONABLE INTELLIGENCE".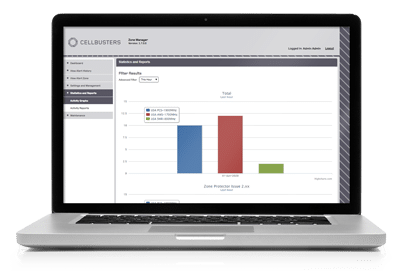 Cellbusters Zone Manager™
Locate Cell Phones
View alert locations on an interactive map of your facility, download collated alert data for easy analysis or use the interactive graph feature to quickly identify problem areas and trends. Install Zone Manager™ on premise.
View alerts on facility map in real time
Real time event logging collected from distributed Zone Protectors™
Statistics and Reporting
Alert notification via email or API
Centralized control and management