Products
Zone Protector™
Overview of Zone Protector™ features and specifications
Zone Protector™
Detect Cell Phones & Hidden Transmission Devices
Compatible with:
Accurate Detection // Future Proof // Multiple Alert Options
Deploy as a portable or network device with adjustable range.
The Zone Protector™ provides maximum protection for your environment by continuously scanning for cell phone and user selectable RF transmissions. Once cellular or appropriate RF activity is detected, the Zone Protector™ can be set to activate a choice of alerting options or to silently log all detected activity. Engineered to extremely high standards, the Zone Protector™ offers excellent detection accuracy with virtually zero false positives.
Features at a Glance
Deploy as a standalone or network device depending on your environment
Detects all cell phones in all countries (standby, texts, data and calls)
Detects all protocols including 2G, 3G, 4G, LTE, GSM, CDMA, Wifi, Bluetooth etc
Audio alert announcement, visual LED alert or silent logging modes
Easily adjustable detection radius for small rooms or for larger areas
Works out of the box for quick and easy deployment, also work as Cell jammers
Sensitivity adjustable without a connected computer (ideal for restricted areas)
Intuitive web interface for advanced setup and administration
Future proof design: simply add new channels as cellular networks evolve
Includes audio out jack and SMA connector for optional external antenna
Control third party devices using the included relay interface
Easily add or disable detection channels via browser (e.g Wifi detection off)
Power over Ethernet (PoE) and worldwide A/C adapter included
Optional internal rechargeable battery for power backup or portable use
Fully compatible with optional Cellbusters Zone Manager™ & cell jammers
Excellent detection accuracy with virtually zero false positives
Includes 12-month standard warranty with access to firmware downloads
Extended and advanced warranty options available
High quality US engineering and technology – CE and FCC Certification
Cellbusters Zone Protector™
The Zone Protector™ is the ultimate detection device. It is capable of detecting all cell phones (any carrier and any protocol in all countries) when the phone is in standby mode, texting, making a call or transmitting data.
In fact, the Zone Protector™ is far more sophisticated than a cell phone detector. Comparable to a spectrum analyzer, the Zone Protector™ has the ability to scan user-definable frequency ranges along with the ability to alert, notify, control a third party device, or simply log as soon as it detects relevant transmission activity.
Precise frequency filtering technology, managed and controlled by a 32-bit microprocessor, enables the Zone Protector™ to deliver accurate detection with virtually zero false positives.
The Zone Protector™ is extremely versatile. Depending on the demands of your environment, it can be deployed as a portable device for standalone operation or as a network device for centralized monitoring and management.
Your investment is protected thanks to the clever future-proof design, which allows you to easily add channels or frequencies, or update the firmware as cell phone technology evolves well into the future.
Adjustable Detection Range
The detection range of the Zone Protector™ can easily be adjusted depending on the environment. For example, it is possible to restrict the detection radius to a small conference room or to expand it to scan an entire open plan office, factory floor, or warehouse.
Preset detection sensitivity can be selected using a button combination on the Zone Protector™ without the need for a connected computer, thus simplifying deployment. The easy-to-use web interface allows for more granular control depending on requirements.
Standalone Portable or Network Deployment
The Zone Protector™ can be carried as a portable device, deployed as a standalone device in conference rooms or classified areas, or it can be connected to the network, depending on requirements or restrictions.
With many power options such as the included universal A/C adapter, Power over Ethernet (PoE) connectivity or the optional internal rechargeable battery, the Zone Protector™ is ideally suited to any situation.
Third Party Device Control
The Zone Protector™ can be set to control a third device once an alert is raised. The included relay alert option can activate beacons, alarms, strobes, access control devices, cell phone jammers etc. The length of time for which the relay stays active after an alert is raised can also be configured via the web interface.
Control Third Party Devices
Flexible deployment options suited to most environments. The Zone Protector™ can also communicate over an existing Wifi network via a wireless bridge such as the Motorola CB3000 client bridge, ideal should structured cabling be unavailable.
It is also possible to install the Zone Protector™ inside a tamper proof and environmentally controlled enclosure for industrial or more rugged applications. This flexibility ensures the Zone Protector™ can be quickly and easily deployed in almost any environment.
Connect Over Wi Fi – Protect Your Investment
The Zone Protector™ is fully upgradeable and supported by Cellbusters, ensuring your investment is protected. New carrier frequencies can easily be added via the web interface or simply download and install firmware updates as necessary. While the Zone Protector™ includes email support and a standard 12-month warranty, it is also possible to choose from additional warranty upgrades such as 36 months extended and enhanced options depending on your requirements.
Front View
The Zone Protector™ form factor is similar to that of a wireless access point and would not look out of place in any environment. Status indicator LED, high visibility LEDs and the mute switch are well positioned on the front of the device for clear visibility and access.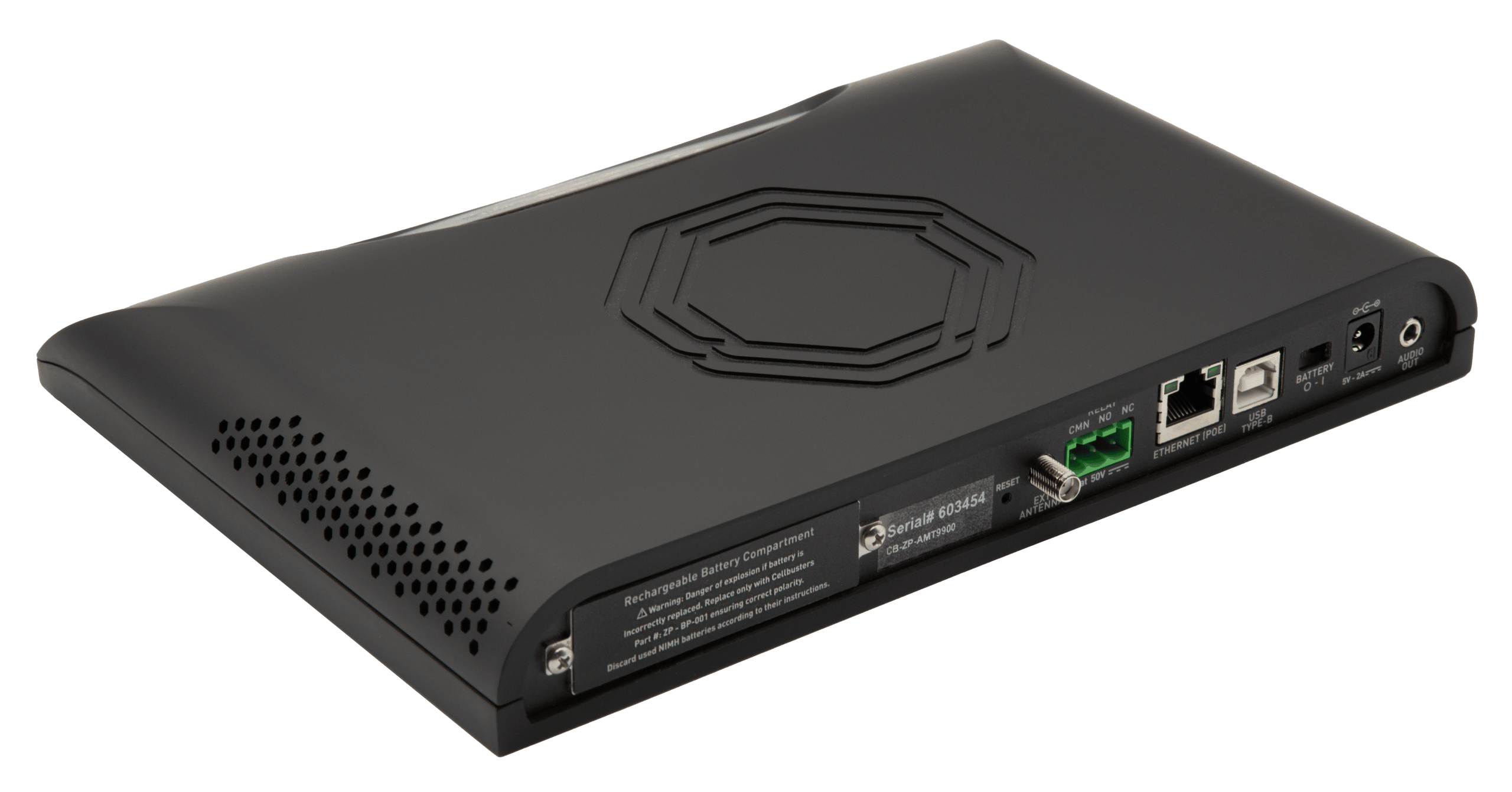 Rear View
The Zone Protector™ rear panel provides access to power connectivity, relay connectivity, network connectivity, and connectivity for an optional external antenna via an SMA interface. The audio out jack provides connectivity for an optional external speaker or amplifier for use in noisy environments. Access to the optional internal rechargeable battery compartment is also provided at the rear of the device.
Device Information displayed via web interface
Access the Zone Protector™ from any web browser via its password-protected embedded web interface. The device information page displays an efficient dashboard view of the Zone Protector™. Key information such as recent alerts and device settings are conveniently displayed on a single page.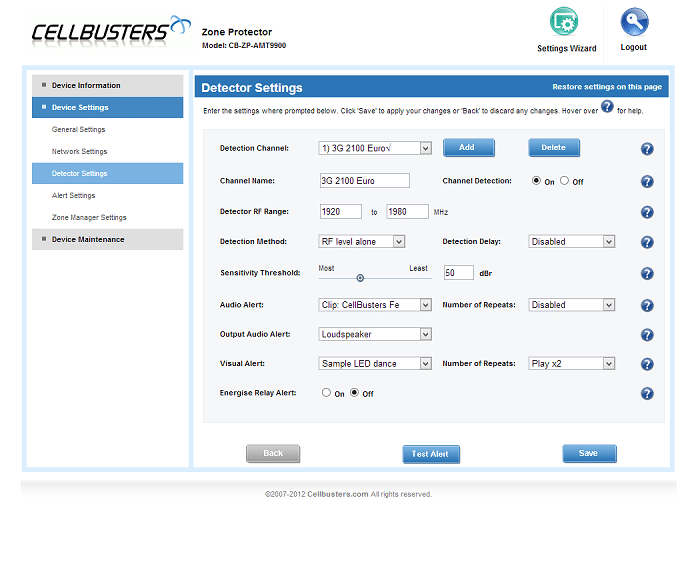 Easily add or manage individual detection channels
View, add or manage detection channels in seconds via the Zone Protector's web interface. To add a detection channel simply enter a channel name along with the lower and upper frequency of the range you wish to detect. The versatile design of the Zone Protector™ allows you to control the sensitivity and alerting methods for each individual detection channel. For example, a specific audio clip could be played when a 4G signal is detected but only the relay needs to be energized when a Wifi signal is detected.
View and control alert settings
The Zone Protector™ allows you to choose alert settings that are best suited to your environment. For example you can upload your own custom audio WAV files for more localized or custom announcements. You can choose to select visual alerting only or switch alerting off so the device just silently logs activity. Other settings include audio alert wait time or how the device behaves should the relay be activated, also used in activation of Cell jammers.
| Specification Item | Description |
| --- | --- |
| Product Name | Zone Protector™ |
| Model # / Ordering SKU | CB-ZP-AMT9900 |
| Product Description | User programmable frequency detection device with multiple alerting and notification options |
| Operation | Standalone or part of a networked system |
| Enclosure Type | External |
| Dimensions (W x D x H) | 235mm x 165mm x 30mm |
| Weight | 0.8 Lbs .36 Kg |
| Localization | Universal |
| Detection Radius | Adjustable detection range 5 feet – 150 feet. Set sensitivity range via button combination or granular control via web interface |
| Cell Phones Detected | Detects all cell phones, all carriers, in all regions |
| Programmable Frequency Range | 20Mhz – 6 Ghz |
| Programmable Detection Channels | 127 |
| Alert Options | Audio Announcer, High Visibility LEDs, Silent Logging, Relay Alert |
| Audio Clip Storage | Up to 95 seconds arbitrarily split into 1 to 16 named audio clips |
| Audio Clip Format | WAV file (2 options preloaded, can be updated via web interface |
| Specification Item | Description |
| --- | --- |
| Default Detection Settings | North America (All Carriers) Preloaded |
| Optional Enhanced Detection | Optional Enhanced Detection |
| Antenna Type | Internal (Optional external via SMA connector) |
| Device Management | Embedded Web Interface |
| Antenna Type | Internal (Optional external via SMA connector) |
| Microprocessor Speed | 32 Bit |
| Power Options | Includes worldwide A/C adapter, Power over Ethernet (PoE) and optional internal rechargeable battery pack |
| Speaker Specification | 50mm loudspeaker 1.5W approx 85dB at 1m |
| Speaker Volume | User Defined 0 – 80 dB |
| User Defined 0 – 80 dB | 32 – 130 Degrees Fahrenheit |
| Operating System | Cellbusters proprietary IOS, upgradeable |
| Manual Scan (Zone Check) | Ability to manually scan the entire frequency spectrum and display detected RF activity |
| Zone Manager Compatible | Yes (Optional) |
| Speaker Specification | 50mm loudspeaker 1.5W approx 85dB at 1m |
| Speaker Volume | User Defined 0 – 80 dB |