Solutions
Call Centers
Detect cell phones and transmission devices in SCIFs, government buildings, and embassies.
Zone Protector™ alerts and notifies as soon as a signal is detected. Secure classified information throughout your facility.
Protect classified information by detecting cell phones and hidden RF transmission devices. Don't take chances with your data! Secure your information with powerful tools that detect cell phones and transmission devices throughout your facility.
Today's cell phones are multi-tasking devices that can send text messages, take pictures and even record or stream audio or video.  Their sophisticated features and small size make them an excellent espionage tool that can be used to record and steal classified information.
Cellbusters' Zone Protector is a powerful passive device that constantly scans for cell phone activity and other user-selectable Radio Frequency (RF) transmissions.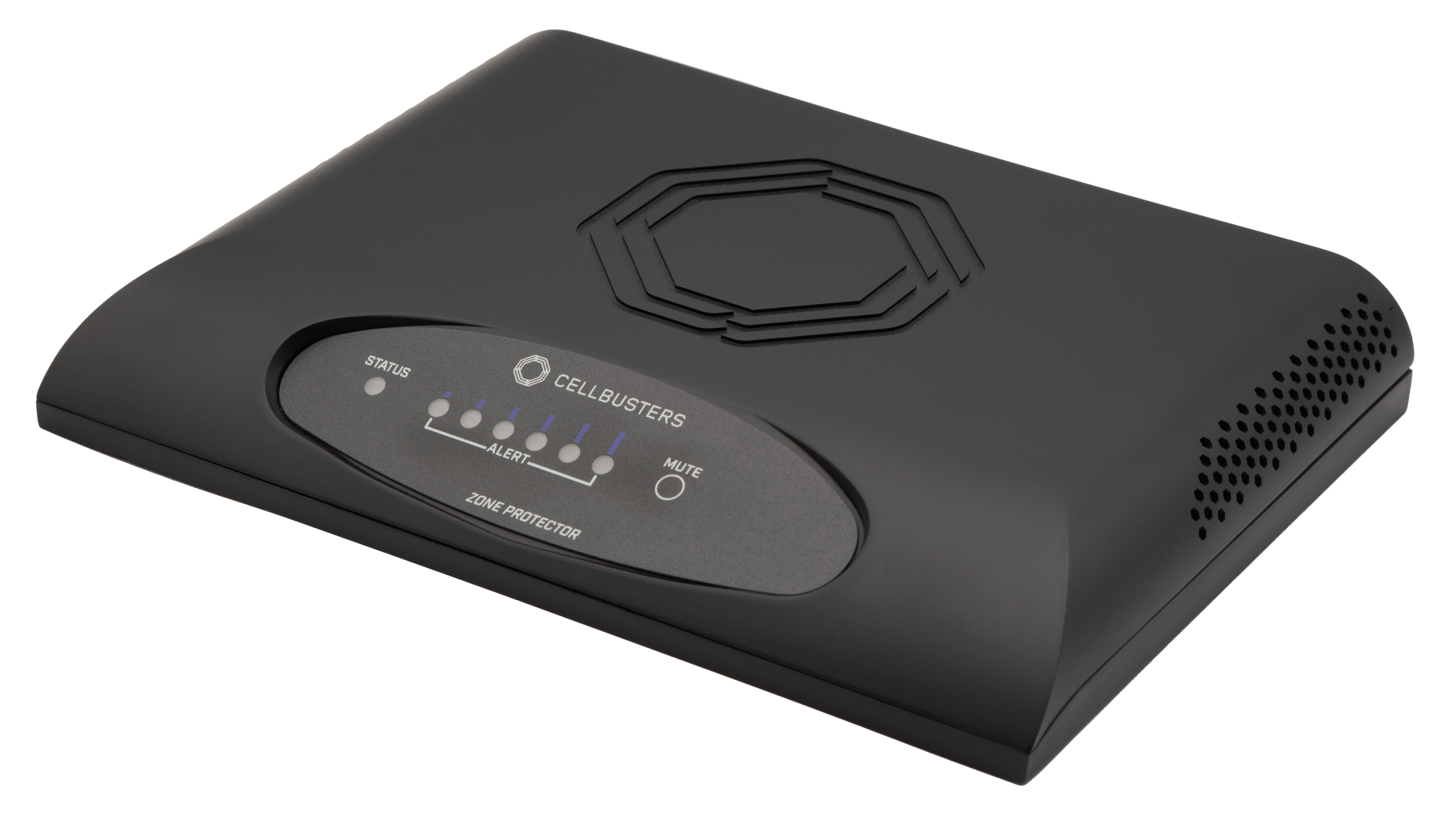 Cellbusters Zone Protector™
Cell Phone and RF Detector
Alert options include audio announcement, visual alert, or silent logging once the appropriate frequency is detected. Zone Protector™ can be used as a standalone device or can also be added to the network, depending on restrictions or requirements. Protect embassies, government buildings, secure conference rooms, classified areas, SCIFs, and any cell-phone-restricted areas.
Detects all cell phone activity (standby, texts, data and calls)
Many alert options including audio and visual notification
Detection radius adjustable for small rooms or for larger areas
A/C Power adapter (optional internal rechargeable battery for portable use)
Works out of the box making it easy to deploy
Adjust sensitivity without a connected computer (ideal for SCIF restrictions)
Relay activation on alert to control or shut down other devices
Software upgradable as new protocols emerge
Fully supported – US Technology – CE and FCC Certification
Centrally manage and monitor cell phone or RF activity throughout your facility in real time. Zone Manager is the perfect software solution for large sites with one or more distributed Zone Protectors. Get immediate notifications as soon as cell phone or RF activity is detected, helping you quickly identify potential security breaches and information leaks.
Zone Manager™ is a powerful yet easy to use tool that delivers real time information with actionable intelligence.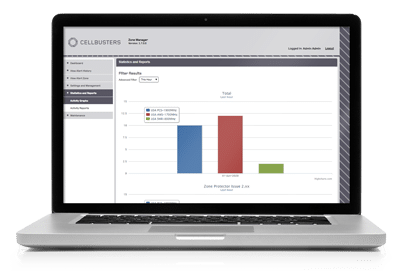 Cellbusters Zone Manager™
Locate Cell Phones
View alert locations on an interactive map of your facility, download collated alert data for easy analysis or use the interactive graph feature to quickly identify problem areas and trends. Install Zone Manager™ on premise.
View alerts on facility map in real time
Real time event logging collected from distributed Zone Protectors™
Statistics and Reporting
Alert notification via email or API
Centralized control and management